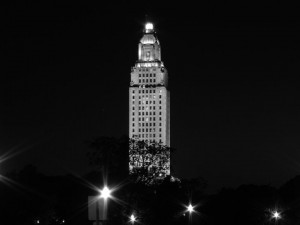 A Taste of Baton Rouge
As noted in one of Baton Rouge's treasured recipe collections, Warm Welcomes, "Most people who have never been to Louisiana picture in their minds the revelry of Mardi Gras parades, LSU football games or endless waterways and bayous. It is true that the state has bayous aplenty, and parade-going has evolved into an official state pastime. LSU football is an exciting annual event. However, driving over the Mississippi River bridge into Baton Rouge for the first time and catching a glimpse of our modern skyline leaves no doubt that this is a sophisticated city that just happens to be blessed with a rich culture centered around a passion for food, family, friends and tradition.
A Louisiana celebration takes place wherever friends and family gather, including the sidewalks or the street. This can mean anything from a Good Friday fish fry in the driveway to a tailgate party on campus. Nowhere but in Louisiana is one just as likely to be invited to dine in a friend's or relative's carport as in their dining room...
Louisianians are known the world over for their easy view of life and reverent view of cooking. … You will enjoy the joie de vivre, or joy of life, we have inherited from our ancestors."
Our homes also offer an appreciation for our heritage and tradition. Utilizing Louisiana cypress and Old St Louis brick are just two of the local features found in our homes. Add a courtyard for a touch of New Orleans. Enlarge the kitchen to encompass a keeping room where the entire party gathers. Expose massive beams for adding a touch of old to the new. Exterior stucco adds Country French charm. Whether vintage or new construction, Baton Rouge homes offer quality and a sense of Louisiana style.
We can't wait to find you the perfect home and for you to experience the spice of our cuisine, the tropical warmth of our climate and the generous warmth of our Southern hospitality – Louisiana style.
Welcome to our home. Your home.