TESTIMONIALS
Working with Brandon was an absolute pleasure. I got answers to all the questions I asked, and the answers not only made sense, they were accurate as well.This was the smoothest home purchase I've experienced to date, and I would highly recommend...

Buying a new home is exciting, but also nerve-wracking...especially if the property needs a bit of work to make it perfect. Lucky for us we were assisted all the way by Brandon Baird of Keyfinders. New in the city, we would have been overwhelmed,...

This is the second time I have used The Keyfinders Team and I have not been disappointed. Carol and Jeffrey have put together a wonderful group of people who truly are a team. They all work together for the good of the client. When things...

Stephanie has gone ABOVE and BEYOND with helping me find a home since I am relocating from California to Baton Rouge, LA my home state. She always made me feel that I was her top priority in going through this process - especially being a 1st time...

I have had nothing but positive thoughts about you and yourteam. The level of professionalism is wonderful. I feel confident with you and your team in charge that the house is going to be sold. Thanks for your level of commitment and...

The KeyFinders Team is hands down the absolute best in Baton Rouge! Brandon's conscientiousness and overall mindset of helping the client in every way possible is outstanding. I will surely be using them from here on out and I will be...

Brandon went above and beyond to help us. We really appreciate the time he spent working with us. He spent a lot of time showing us areas and property around different parts of Baton Rouge. Thanks for all you help.

I can't recommend Neal and the team enough! Thanks, Neal!

Working with Carol and Jeffrey was 1st class. They always put their clients needs first and worked in a very professional manner. It was a fun pleasure and honor to have them represent us in selling our home! I would refer anyone to them!

Just wanted to send a big THANKS to the crew for helping me sell the house so quickly. The process was very smooth and all of the advice was very helpful. Sara and I enjoyed working with each of you. God Bless….

I could not have asked for a more compassionate, hardworking, and responsive real estate professional than Jeffrey Welsh and his KeyFinders team. Be careful what you ask for...we met Jeffrey on January 19th and expressed our need to sell our home as...

Neal Francois is the best realtor in Baton Rouge and there are just no words to sufficiently describe how great of a job he did in helping my wife and I find our home. He is the best there is and is definitely a good fit if you are a younger...

Stephanie Pierce, First impression: Professional, very knowledgeable, and all of the above. She made the purchase of our home a wonderful experience, which normally is very stressful. She was there to answer every email, and text message and went...

Wonderful team. My house was flooded before we could get to act of sale and the buyers pulled out. Carol suggested we clean up and get house back on market. Had 2 offers same week, we closed 3 weeks later as an "as is" sale. Really needed everyone's...

Carol and Jeffrey did a great job selling our house. Because of their experience and strategy, we had a lot of showings in short period of time. We had an offer on the house after a short 5 day period. They were very helpful during the negotiation...

As an investor who needs to move fast and for whom incremental margins are crucial, working with Carol and Jeffrey was a great match. They not only pushed to make a good deal great for me, they were great ushers on the process and quickly responded...

32 years my properties in Baker LA were managed by Keyfinders Realty. This team is superb. They managed my properties expertly. And when we flooded, the Keller Williams Realty group came in and sold my properties quickly and efficiently. I highly...

Hands down the BEST realty team in Baton Rouge. I've used them twice both with buying and selling. The transactions were seamless, professional and they catered completely to my needs eliminating all hurdles along the way. I've worked with other...

I wanted to again say thanks again and say how much we appreciate ALL of your help with us selling our home. You've been such a blessing to both Emily and I and we just love you! You're such a strong woman who I can imagine has good days and bad...

Mrs. Claire was the best agent I ever could expect. I think that God put me at the house that date. I was looking for a home for my brother to buy and I called Mrs. Claire and she came right over. She answered all my questions and always very quick...

I just wanted to take some time to commend Claire and the team at Keyfinders for their hard work and efforts in helping us to purchase our property! The professionalism, attention to detail, and 'can do' attitude made Claire a pleasure to work with....

This team is wonderful! I found a place quickly and sold it when I was ready to sell in no time. I had zero issues buying or selling. They made me feel at home in a strange town where I had no family. Claire and Jeffrey managed to make me feel like...

It only took Carol 1 month to sell my condo!! Her photographer is fabulous!! I'm so thankful and highly recommend her and her fabulous team!!!

Stephanie is wonderful. She always go the extra mile to be sure that the transaction goes well. I would recomand any one who wants to purchase a new home to contact her. She will find you exactly what you're looking for.

Very professional, first class operation from top to bottom. My home was posted and two weeks later I closed. They are very friendly and courteous. You leave feeling that your business was appreciated. Everyone I have ever met was professionally...

I trust the KeyFinders Team. How much so? In the last year, my wife and I used KeyFinders to sell a home and buy a home and recommended them to a friend who in turn used them to purchase her home. Through it all, the KeyFinders were the consummate...

Carol and Jeffrey were great to work with! Very responsive and knowledgeable about the market. Their communication and assistance with getting everything done through the close was extremely beneficial. Though I am not looking to buy or sell again...

Stephanie and the rest of the team were always willing to go with me to see houses. We looked at a LOT of homes until we found the one that was beyond perfect.

I had the pleasure of working with The Keyfinders Team in Baton Rouge, specifically Carol Poche, Jeffery Welsh, Gerry Poche and Neal Francois. They were thorough with their research, professional in all ways AND they sold our house in 10 days. We...

Thanks Neal…we put our trust in The Keyfinders Team because you earned it, starting with the professionalism and tenacity exhibited by Stephanie and you when we were buyers, not sellers. I suspect those are traits Jeffrey and Carol demand from all...

Thank you for getting our home sold so quickly. It is a relief to no longer own it.

Stephanie was so wonderful and patient with us. Very knowledgeable about the neighborhoods and activities in the area. Stephanie found us the perfect home. They made everything so easy! Explained anything we didn't understand and always got answers...

Wonderful team to work with. They are efficient and attentive, regardless of the size of the property. Will definitely use them again!

We are so glad we chose your team to sell our home. In spite of all of our meltdowns and after hours phone calls and emails, you remained very kind and professional! Once we understood and accepted the offer, it was a stress free and pleasant...

Thank you for selling my house as quickly as you did, I was not expecting that to happen so soon. I am very happy. It was a pleasure working with you all.

Claire David not only was really helpful and knowledgeable, she was always upbeat and energetic. She made the process a breeze and actually enjoyable.

We are so happy to have worked with the Keyfinders Team! They told us exactly what to do to sell our house quickly for the price we wanted. We sold our house in 3 days for more than we asked. Stephanie got us the house we wanted for a great price...

Neal Francois with the KeyFinders Team did an exceptional job for us when searching for a condo for our daughter. He was professional, knowledgable and a pleasure to do business with! Don't hesitate to call Neal when looking for a realtor. You WILL...

Jeffrey Welsh & Carol Poche impressive work from the beginning to the end . Everything that needed to be done was handled and they were very responsive to my with all requests I gave them . My particular desires and information in terms what I...

To the Keyfinders Team - my name is Milton Simar - the farthest thing in my future was buying a condo - that was before Neal Francois planted the seed of how good an investment that would be for me - now I am a condo owner but none of that would...

Am very pleased with how every thing went from listing to actual act of sale. I was kept informed of every aspect of the marketing, showing, showing feedback, offers, counters, inspections, repairs, schedules etc., etc. If I have to name any 1 in...

5 starWhat a wonderful experience from start to finish. The team was upfront on correct pricing and overall expectations of selling our home during a tough time of the year. With that being said, they went above and beyond to ensure our home got...

What amazing experience!!! Stephanie Pierce thank you so much for working with us and representing us. We are so happy!!!!

What a GREAT group of people. Made the whole purchase process a lot easier. Special thanks to Neal Francois who, beside being a wonderful agent, is now a good friend...

Both Jeffrey Welsh and Neal were excellent and very helpful. Due specific requests it was a lengthy process but both exercised great abilities and patience with this customer!

Over the past 35+ years, my wife and I bought and then sold 6 houses. During this time, we never had agents who were as personable, dedicated to our well-being, knowledgable, and professional as Stephanie Pierce and Neal Francois. I don't say this...

Best all around group of people. Sold, bought and moved all with no hassle. Jeffery and the team found our dream home and sold our old home. From listing, showing, and closing, best I have ever seen.

Keyfinders go above and beyond in every way possible when it comes to selling of a home. Their scope of knowledge in conjunction with everything they do to sell your home makes them by far the best there is. I can say we would not have had the...

You guys have done so much to help us get this house and we couldn't have done it without all of you, we are truly thankful. It was a rocky road but you guys came through and Carol did a great job of talking Tim off the ledge a few times. ;) Carol,...

I appreciate the compliment and likewise I am very pleased with the way you have handled things from day one. I am fortunate to have experienced first-hand why you came so highly recommended.

Hi Carol...just a final thanks for your expertise in the sale of the house on Stanford. All went smoothly from listing to closing ....and Gerry's help with closing details was great.

"The Keyfinders Team is unbelievable, not just in the real estate arena but in the total business arena. I work with a lot of people and I can tell you not many can deliver like y'all. I really am blessed to be able to work with such a great group...
Blog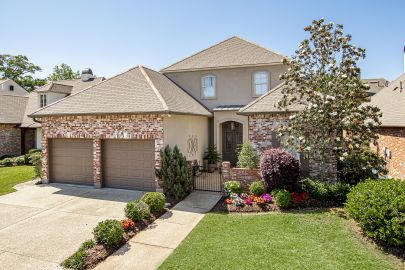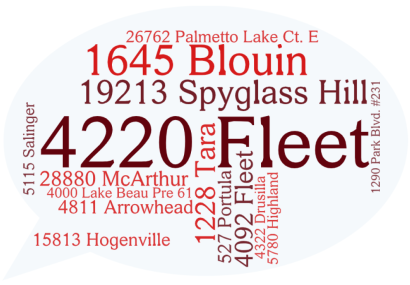 Posted
Three words: May was Busy!
May was quite the month for The KeyFinders Team. Closed 18 properties! Neal Francois married Claire at a lovely wedding in...
Listing information provided courtesy of the Greater Baton Rouge Association of Realtors. IDX information is provided exclusively for consumers' personal, non-commercial use, and it may not be used for any purpose other than to identify prospective properties consumers may be interested in purchasing. The data is deemed reliable, but is not guaranteed accurate by the MLS.
Updated: 23rd June, 2021 6:15 PM (UTC).